Framework 3
Mads Emil Nielsen + Katja Gretzinger + Nicola Ratti: Framework 3
arbitrary announces the release of Framework 3 (arbitrary11) by Mads Emil Nielsen. Framework 3 is the latest instalment in Nielsen's sequence of graphic scores and recordings. The series includes the Danish composer's own subjective translations of visual materials and sound pieces accompanied by visual notations.
On this release he collaborates with Katja Gretzinger and Nicola Ratti. Published as a limited edition art print folder, Framework 3 consists of risographed scores and recordings on 10" vinyl and CD – with recordings by Nielsen, along with graphic scores by Gretzinger and contributions by Ratti.
Read more
Reprint, 2023: available here ︎︎︎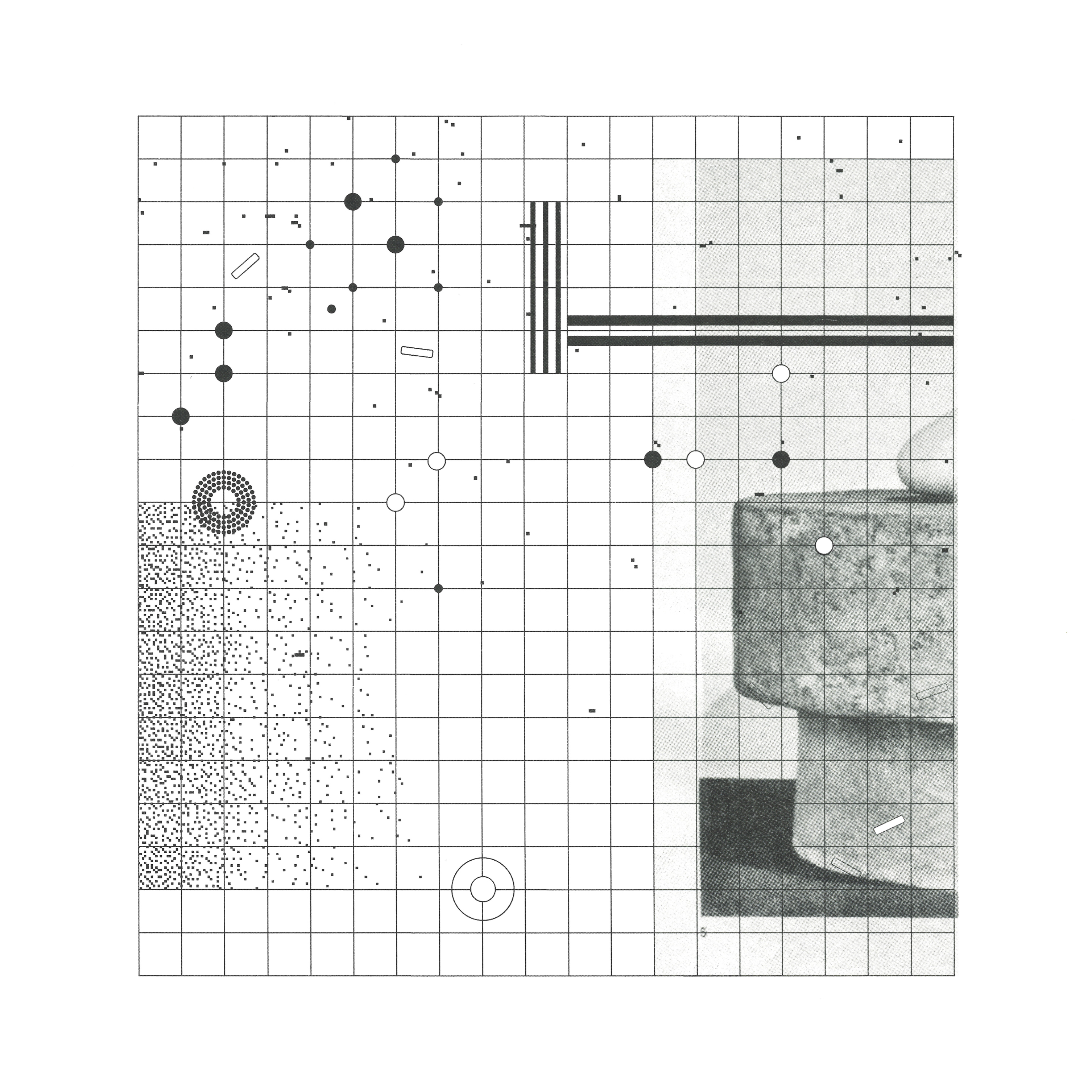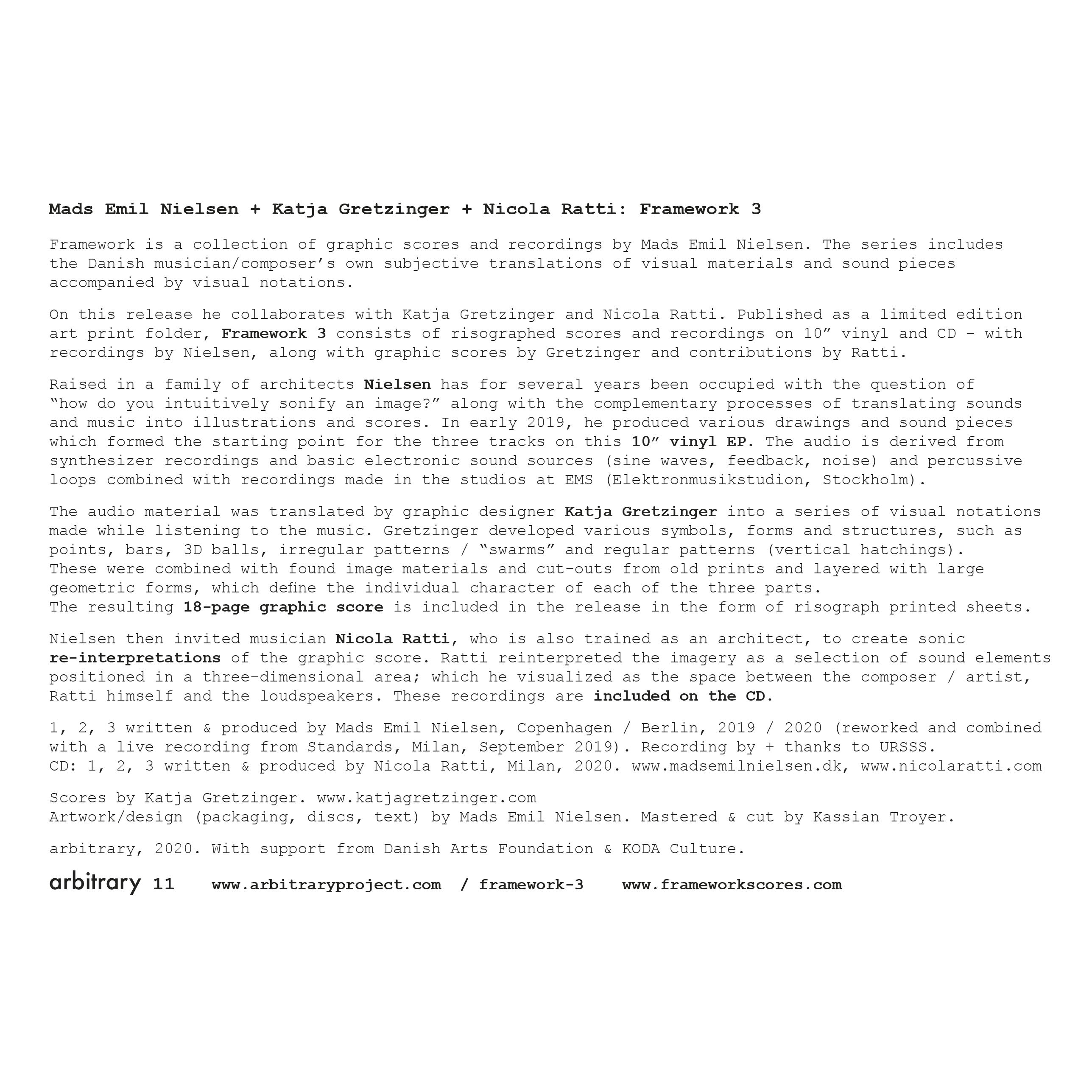 arbitrary11 | August 2020
10" vinyl (transparent, 45 rpm) + CD + DL
Scores: 170g, special packaging (art print folder, 2mm cardboard), foil embossed cover

Scores by Katja Gretzinger. Artwork/design (packaging, discs, text) by Mads Emil Nielsen.

Mastered and cut by Kassian Troyer


Vinyl side A: Mads Emil Nielsen: 1, 2
Vinyl side B: Mads Emil Nielsen: 3
CD (Disc 2): Nicola Ratti: 1, 2, 3

- - -
Distributor: Morr Music Distribution -
info
US:
Forced Exposure
FR / Bookstores:
Les presses du réel
Available via:
ANOST
Les presses du réel
(FR)
Echo Bücher
,
Motto Berlin
,
MZIN
(NEW) - mdbk, Leipzig (DE)
Salon für Kunstbuch
, Vienna (NEW)
Forced Exposure
mailorder,
Printed Matter
(US)
Art into Life
(JP)
Le Petit Voyeur
(DK)
Boomkat
(UK)
arbitrary.bandcamp.com
shop.arbitraryproject.com
(NEW)
info [a] arbitraryproject . com
- - -
Neural - review
(IT) 03.2021
"The latest instalment in this Danish label's series exploring the relationship between music and art, is a sumptuous-looking package, with Nielsen's music arriving on 10-inch transparent vinyl, together with visual notations by graphic designer Katja Gretzinger and a CD of reinterpretations of that graphic score by musician/architect Nicola Ratti. It's a soft play centre of a listen, dotted with rounded, gentle sounds and understated rhythmic detail. Never lingering long enough to get boring, it all moves along nicely, constantly re-materialising into different shapes and moods."
-
Electronic Sound
(UK)
issue 69
, September 2020
Vital Weekly -
review
-
#1250
, 09.2020
FBi Radio -
Utility Fog
(AU) 06.09.2020
- - -
Thanks to Jens Bredsdorff, Richard Scott, Heike Sperling.
With support from Danish Arts Foundation & KODA Culture.